Posted By: MrJelly
UAW160 2020 Downloads -

01/05/20

01:31 PM
17th March 2021
This is a link to the new "Reduced UAW160V4" installation which is an improved version of the "Reduced UAW160V3" installation with later exes and file-managers
Download the later "Reduced UAW160V4" installation
You can still download the V3 optional expansions, but I think that the bug-fix expansions are not needed
**************************************************************************************************
7th March 2021
There has been a link in another thread to an alternative reduced version, which is much later and is available here:
Downloadthe "Reduced UAW160V3" installation
The versions of the "eaw.exe" provided are the new type which do not need a file-manager.
The plane-set and theatre can be selected on the "Set-up" screen, but if you select a new theatre you need to exit EAW and re-start it
A number of expansions, updates and bug-fixes for it are posted in this thread:
Expansions for the Reduced UAW160V3 installation
**************************************************************************************************
13th June 2020

This is an all-in-one installation that includes all the recent installations and patches
13th June UAW160 2020 full installation
The file that you download is a 7-zip self installer named "UAW160Multiplayer13thJune.exe".
It will create a "UAW160 Multiplayer" stand-alone folder at the point where you run it, so I suggest that you copy it from your downloads folder and paste it where you want your installation to go
Inside the "UAW160 Multiplayer" folder there is a file manager program named "DSP2020MultiplayerV2.exe"
Run it, select an exe and a theatre, then a planeset. The aircraft in the planeset will be listed for your information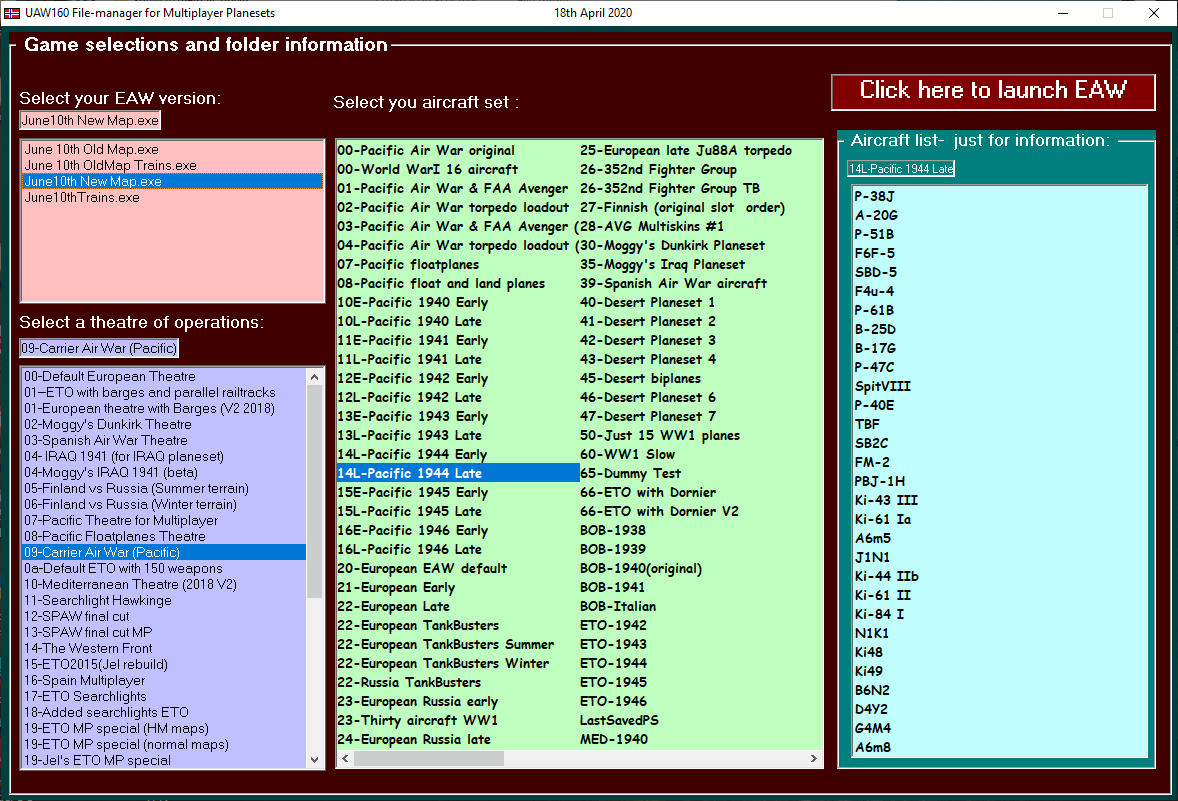 Then you can fly
**************************************************************************************************
5th July 2020- an essential patch
Some time ago in anticipation of Ray's forthcoming inventory release I had renamed the "Aircraft_Inventory" folder as "Multiplayer_Inventory". I also copied the "Planesets" folder, and named it "Multiplayer PlaneSets".
The planeset files in it needed to be edited, so that any occurrence of "Aircraft_Inventory" was replaced by "Multiplayer_Inventory".
This would have been an onerous task, so I wrote a program to do it.
My code assumed that there would be the two normal "dir.set" files in each planeset folder, file(0) being "FMDir.set" and file(1) being "PDir.set"
It seemed to work well, most of the files in the folders were converted properly and the new planesets worked.
However, five or six did not, and when loaded there were no visible skins to see.
Testing at GameRanger last night we found the cause of the problem.
There was an additional "Dir.set" file that had been put in every one of the bad folders (but not by me). They should not have been there, and alphabetically this made "Dir.set" = File(0), "FMDir.set" = File(1) and "PDir.set" = File(2). The converter program only converted File(0) and File(1) so the "PDir.set" file with the paths to the aircraft skins was not converted
So there is a patch which overwrites the "Multiplayer PlaneSets" folder, and also puts the latest versions of the UAW160 exes in your "EAW Versions" folder:
Link for the patch to fix some planeset file errors with the June 13th installation
Download the "July05Patch.exe" and run it in your "UAW160 Multiplayer" folder. Allow it to overwrite files
***************************************************************************************************
I will be editing this single post by adding download links when new material is available.
The latest additions will be in this post.
If you are reading this and downloading stuff as a guest I strongly suggest that you join SimHQ
so that you can make comments or ask for help in this forum
**************************************************************************************************