Posted By: - Ice
Starting with Falcon 4 BMS Update 4 -

10/11/12

01:55 AM
Falcon 4 BMS 4.32 is the best version of the venerable Falcon 4 F-16 simulation to date. Bringing in modern "features" such as a fully-working, fully-clickable 3D cockpit with working gauges while still retaining the depth of Falcon 4 all for the low, low entry price of $0.00/£0.00/EUR0.00 (price dependent on your location of course), it is no surprise that it is attracting people from the I-got-no-clue-how-to-do-the-Falcon-dance new pilots to those who've spent a few months/years with the various other flavors of Falcon (OF/FF/AF) and are giving the sim "another chance" to those who've flown Falcon 4 for over a decade and can recite checklists in their sleep.
However, the install procedure for Falcon 4 BMS can be quite confusing. First of all, the BMS installer will look for the
original
Falcon 4 .exe file. Yes, the original one, so Falcon 4 Allied Force
will not work
... and this is where most people get confused. So yes, you will have to find a copy of the original Falcon 4.0, eBay and Amazon are good sources, or another virtual pilot can probably lend you his CD, but be prepared for total annihilation if you so much as scratch the CD!! I was lucky enough to get a free copy from Reschke early 2011 and surprisingly BMS came out by September, so thanks Reschke!!
Another common source of confusion is the installer and Update process that BMS is using. It is quite unique and difficult to use at first, though it kinda makes sense after a few Updates
So here is the install process that I hope will help new pilots get from "WTF?!" to "OMG, this RAWKS!" in as short a time and as pain free as possible.
So here's how to install Falcon 4 BMS:
1. Download the relevant files from the BMS website. You should end up with 4 files, the zipped base installer and the 3 Updates.
2. Unzip the installer and you should get these files under
\Falcon_BMS_4.32_Setup\Falcon BMS 4.32 Setup
folder. If you only get the
\Falcon BMS 4.32 Setup
folder, delete that and unzip the folder again using the "Extract to [folder name]" command and
not
"Extract Here"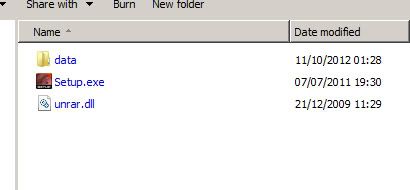 3. Under the
\data
folder, you will initially get only these files
4. Double-click Update 1 to apply it to the base installer.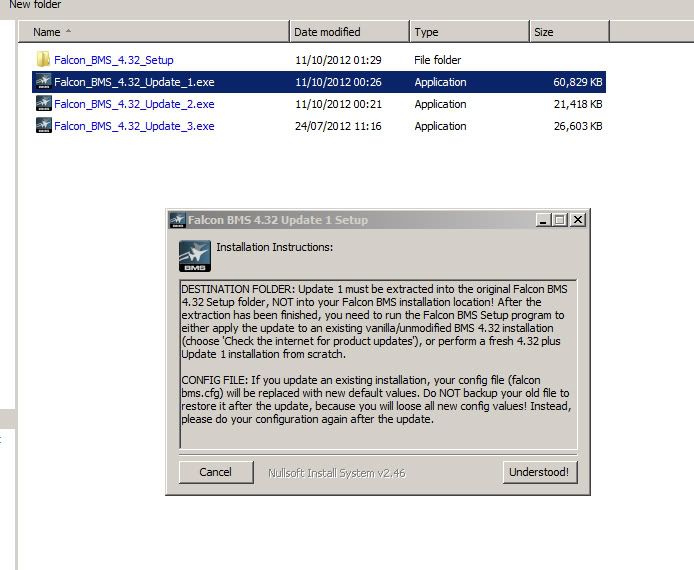 5. Navigate to your
\Falcon_BMS_4.32_Setup
folder and notice that it'll append the
\Falcon BMS 4.32 Setup
at the end of the line, that is why Step #2 above is important!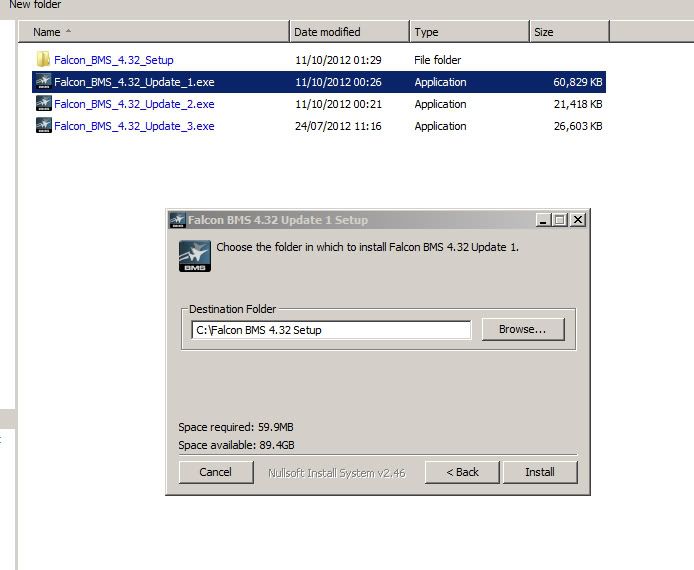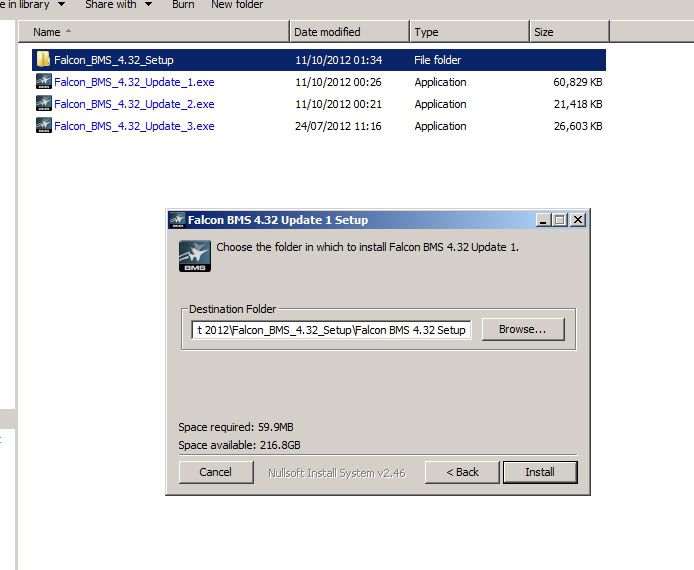 6. After a few seconds, it'll finish applying Update 1 and now your
/data
folder will show the Update 1 .bsf files.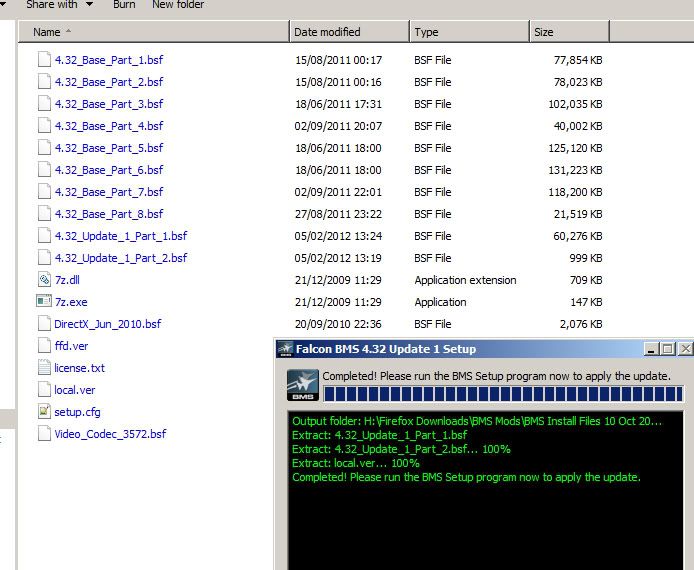 7. Do the same for Update 2 and notice the .bsf files now in the
/data
folder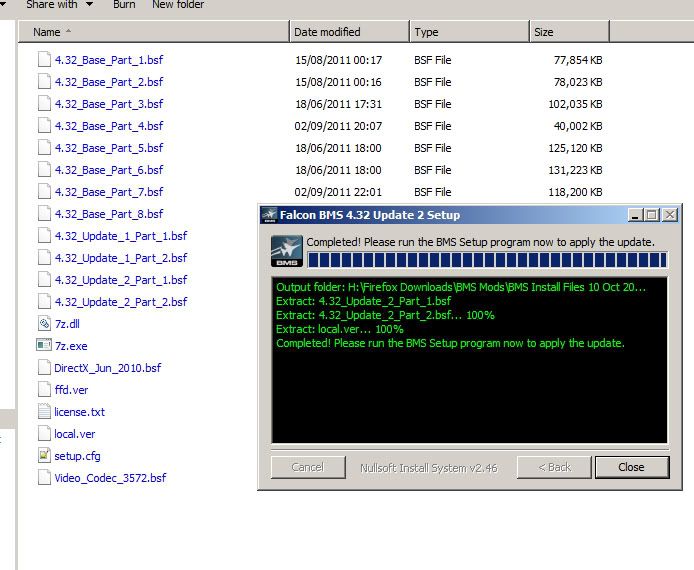 8. Do the same for Update 3 and notice the .bsf files now in the
/data
folder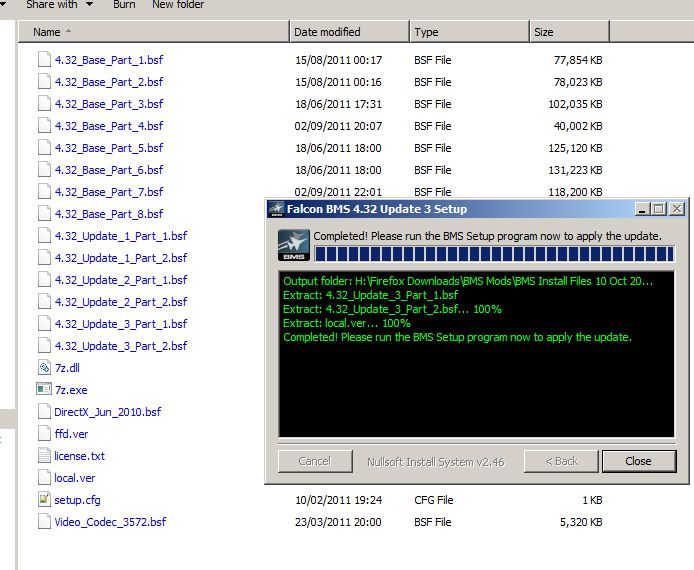 30 Dec 2012


EDIT: Added Update 4.
9. Do the same for Update 4 and notice the .bsf files now in the
/data
folder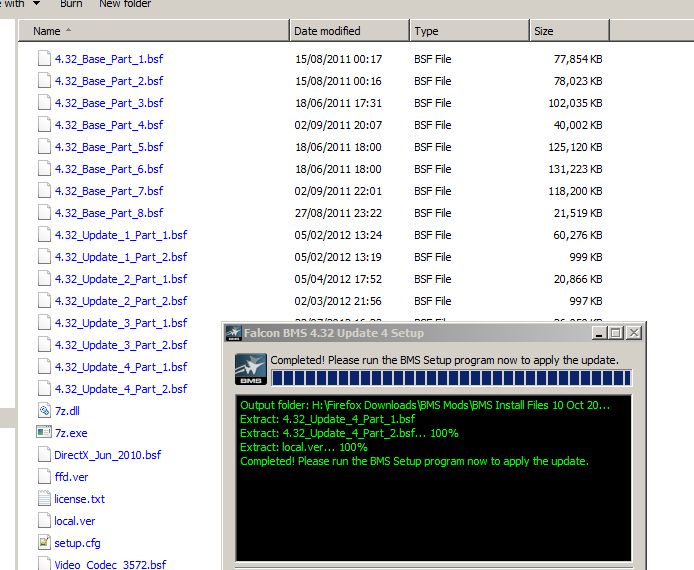 And that's it! You now have your base installer updated and it will install BMS and automatically apply all updates to your sim!
12 Nov 2012


EDIT: Updated the steps and pics to reflect a clean install.
30 Dec 2012


EDIT: Clean Install of Update 4.
10. Double-click the Setup.exe file and you will see this window first. Click Next.
11. EULA... Read if you can!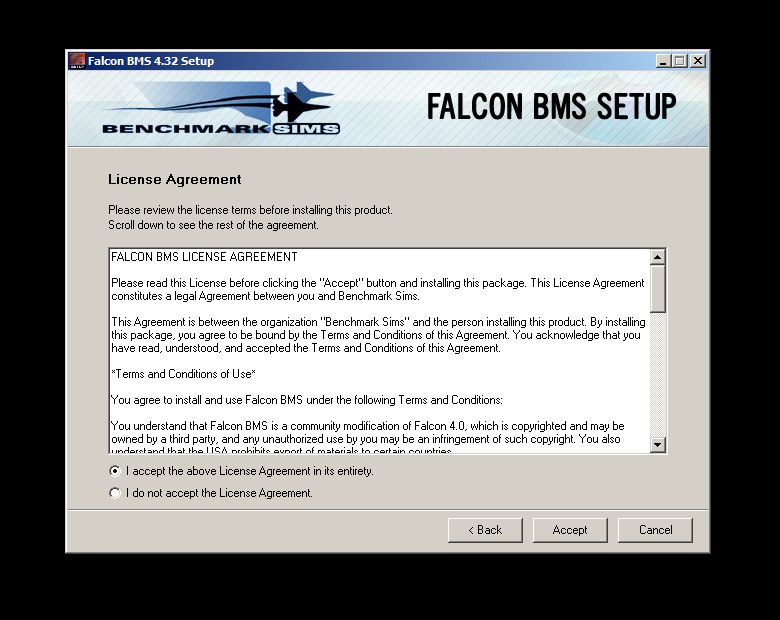 12. Point the installer to your Falcon 4 CD or a folder that contains the .exe file. Again, you will need the ORIGINAL Falcon 4 CD, Allied Force will not work.
13. Select where you want your copy of Falcon 4 BMS to be installed to. I placed it on my C: drive as that is my SSD drive.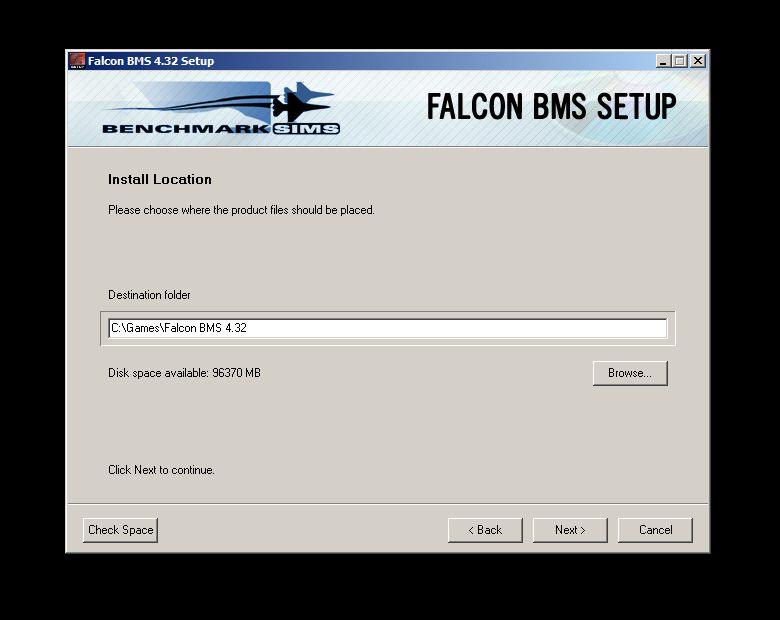 14. The installer will now check whether all the files have been downloaded properly.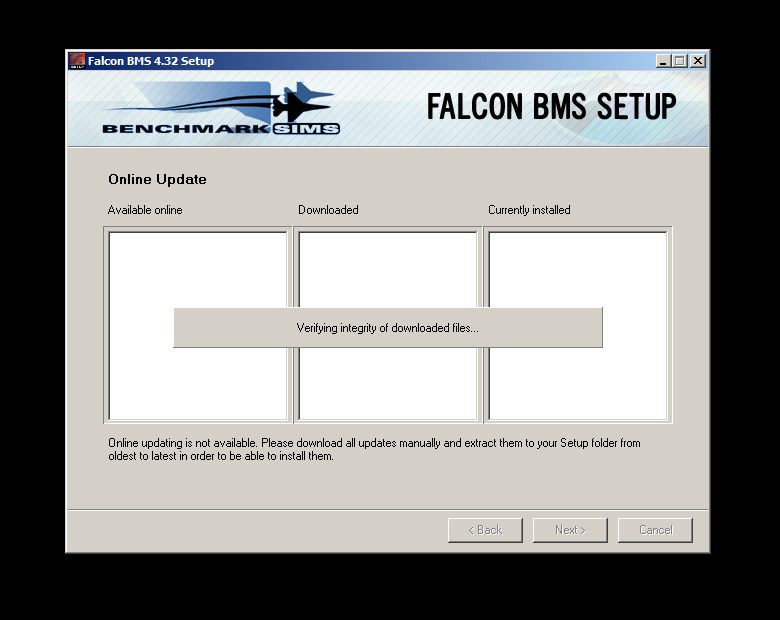 15. After verification, it should recognize that you have the base BMS program and all
three
four
Updates downloaded and ready to install.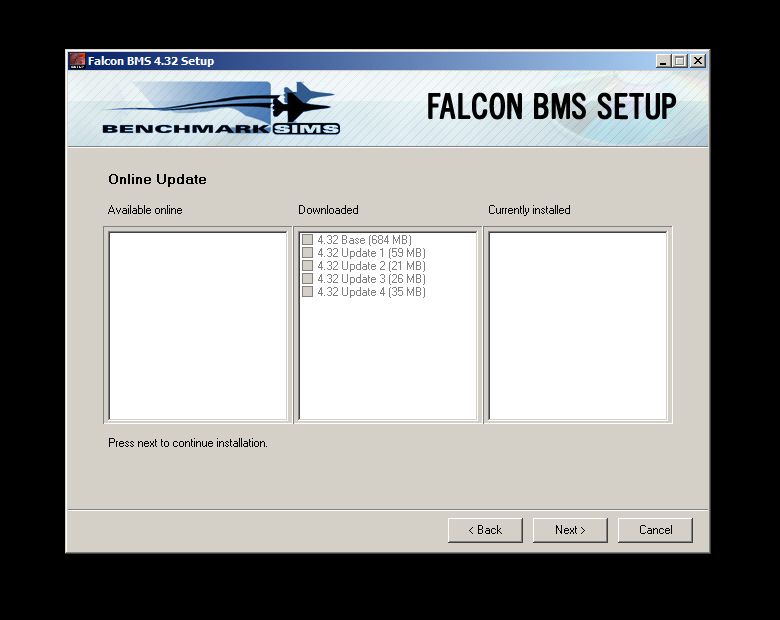 16. Just select all the files under the Downloaded box, click Next, and the install process should begin!
17. BMS is now being installed on your PC!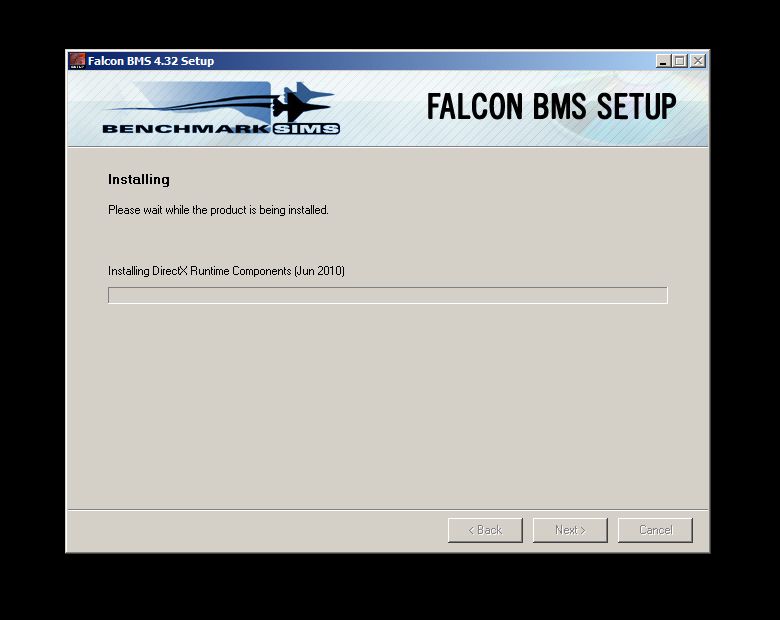 18. Once done, select any of the options you want the installer to do before wrapping up...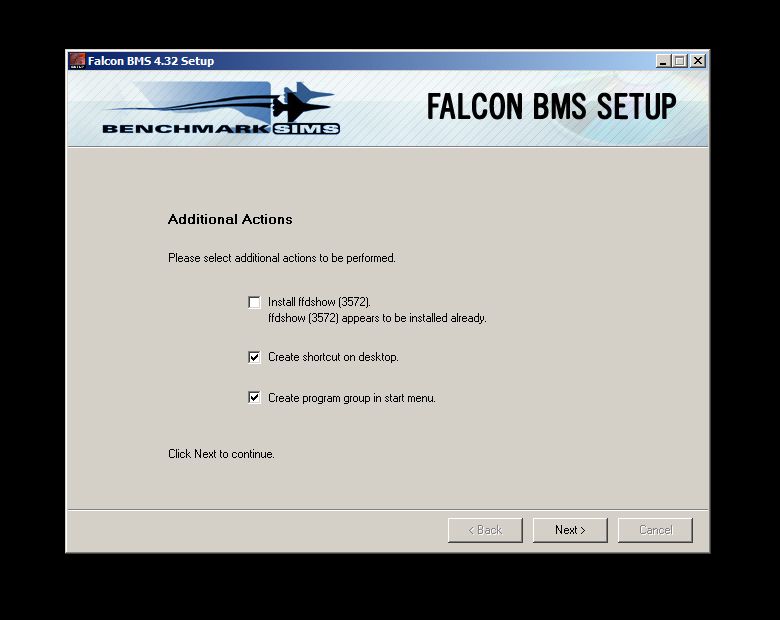 19. And that's it, done! Falcon 4 BMS is now installed!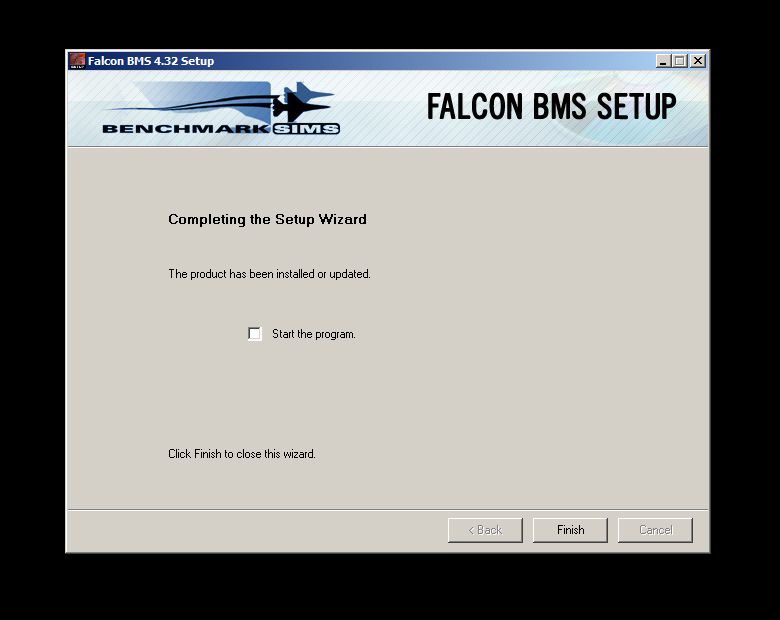 19a. You can re-run the setup to check what you have installed. The installer will again verify the files you have on your PC. This is how it should look like with Falcon 4 BMS Update 4 installed.
A few points to remember:
You will need the

ORIGINAL

Falcon 4.0 .exe, the Allied Force .exe will not work
There is NO NEED to install Falcon 4.0 before, during, or after installing BMS. The BMS installer will simply look for the .exe and will install BMS once it is happy with the presence of the .exe file.
Falcon 4 BMS will

NOT

need the Falcon 4.0 .exe or CD anytime after the install. The .exe check is a one-time check during installation; you can play BMS afterwards with no need for the Falcon 4.0 CD so keep that CD in a safe place!
So there you have it! Falcon 4 BMS install procedure --- the new Falcon 4 dance! Enjoy!